The ChargeHubGO+ is an all-in-one power bank that can power virtually any USB device on-the-GO! The power bank features a wireless charging pad, USB charging port, Type-C charging port, and 2 built-in charging cables that are compatible with Micro/Lightning, and Type-C devices. The powerful 5000 mAh battery capacity will keep devices charged without needing any additional accessories! The package includes ChargeHubGO+, Micro USB Charging Cable, User Manual, and 1-Year Limited Warranty by Limitless Innovations.
Product Highlights
INNOVATIVE TECHNOLOGY: Patented SmartSpeed Technology provides the fastest possible charge for devices with an impressive 15 watts of total power! The ChargeHubGO+ is compatible with almost any USB chargeable device.
5W WIRELESS CHARGING: Is the hottest new technology! Go cable-free by simply placing a compatible device on top of the ChargeHubGO+ and your device will begin charging.
PORTABLE POWER: The 5000 mAh battery will keep most devices charged while on-the-go!
UNIVERSAL COMPATIBILITY: Ensures an optimal charge for virtually any device. Charge using a standard USB, Type-C, wireless charging pad, or the built-in USB Cables that provide unique and universal compatibility with (1) Type-C and (1) Micro/Lightning Reversible Cable.
SAFETY CERTIFICATIONS: CE Certified, Tested to comply with FCC Standard Part 15, and RoHS Compliant. 
What's Included
The ChargeHub package includes:
(1) ChargeHubGO+
(1) Micro USB Charging Cable
(1) User Manual
(1) 1-Year Limited Warranty!
Specifications
Specifications
Micro / Type-C Input: 5V / 2A
Battery Capacity: 5000mAh
USB Output: 5V / 2A
Charging Cable Output: 5V / 2A
Wireless Output: 5V / 1A | 5W
Total Power: 15W
Price: US$39.99
Buy ChargeHubGO+ Wireless Power Bank Now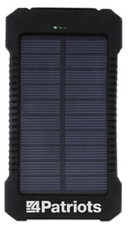 Price: $64.95 +$5.30 shipping