The Ninja Foodi, the pressure cooker that crisps. With tender crisp technology, you can achieve all the quick cooking and tenderizing wonders that you love about pressure cookers. But where they stop, the Foodi is just getting started. Its revolutionary crisping lid allows you to air fry, bake, roast, and broil. That means you can pressure cook to lock in juices, then finish with a crisp. Only the Ninja Foodi gives you the best of pressure cooking and air frying, all in one pot. Transform frozen foods to crispy meals. Create wholesome, multi-textured 360 meals by cooking proteins, veggies, and grains all together. Elevate your favorite stew and chili recipes by adding a crispy or bubbly top to make one-pot wonders.
Features
---
The Ninja foodi- the pressure cooker that crisps. Pressure cooker, air fryer, tender crisper
Tender crisp technology allows you to quickly cook ingredients, then the crisping lid gives your meals a crispy, golden finish.
Pressure cook up to 70% faster versus traditional cooking methods.
Air fry with up to 75% less fat than traditional frying methods.
6. 5-Quart Ceramic-Coated pot: nonstick, PTFE/PFOA-free, and easy to clean. Enough capacity to cook a roast for your family.
4-Quart cook & crisp basket: large-capacity, Ceramic-Coated, PTFE/PFOA-free basket holds up to a 5-lb chicken or 3 lbs. Of French fries to feed your whole family. Nonstick for easy cleanup. Never clean the cooker base in the dishwasher. ALWAYS use a non-abrasive sponge or cleaning tool when washing your unit
Includes dehydrate function to create delicious homemade snacks like chips and jerky
14 levels of safety: passed rigorous testing to earn UL safety certification, giving you confidence and peace of mind while cooking.
Frozen to crispy: skip thawing and save time. Evenly cook frozen food from the inside out, starting with pressure cooking and finishing off with a crisping method of your choice.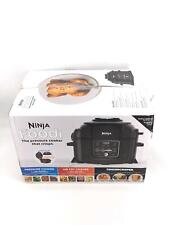 Condition: Open box
Price:  US $228.00

Brand New
Price: $189.99
Buy Ninja Foodi 6.5-quart Pressure Cooker Now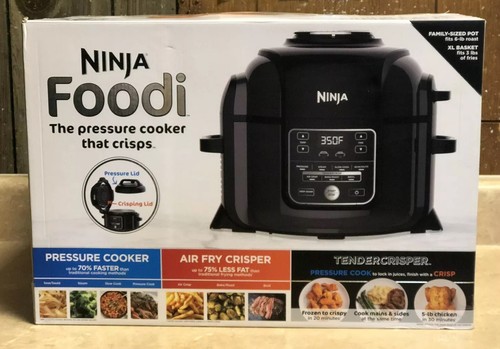 Price:$174.99