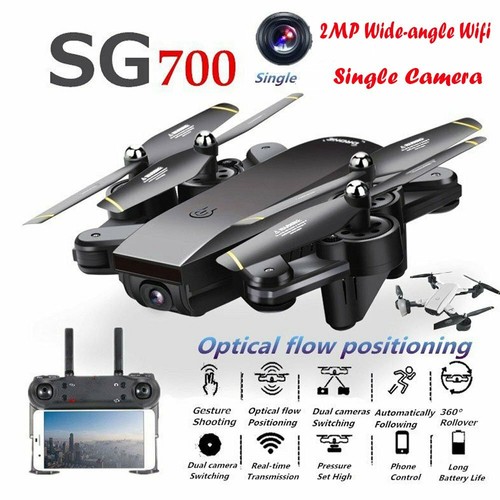 Price: US $59.99
Many uses for drones
A drone is one of those wonderfully versatile devices that can be used however you'd like. It can be a toy, part of a hobby, or a tool for professional photographers and cinematographers. How you plan on using it and what you're able to spend becomes the focus points when shopping.
Commercial usage for drones
1. Real estate. Listing agents of residential properties can use drones to create beautiful video tours of their properties. Using a drone to capture video footage of particularly large properties also makes it easier to capture areas that may be somewhat difficult to reach on foot during a showing. Home services companies can benefit, as well. Exterior home inspections can now be performed with a drone, saving inspectors time, energy, and liability.
2. Golfing. Drones can be used to gather fantastic video of the golf course for marketing purposes. But beyond that, imagine stepping up to the 4th hole on St. Andrew's old course on the eastern coast of Scotland and being able to review a video of the hole before you take a club from the bag. Drones can be used by golf spectators to capture the game in ways that were previously not possible. Drones can provide great value to golf coaches and pros as they work to improve the golf game of their protégés. Drones can also be used to calculate environmental differences at each hole in real time.
3. Inspections. Drones may prove useful for several types of inspections. For instance, oil companies can use drones to inspect pipelines in remote areas. Wind energy engineers can perform inspections on wind turbines and turbine props without needing to bring in heavy lifting equipment, or put humans at risk of injury. A drone can capture high-definition video of every joint, support, crack, and crevice on a bridge which can be more thorough than what a human engineer
on the job might be able to do because of environmental variables and safety restrictions.
4. Agriculture. Drones make it possible for farmers to be able to address hydration issues by measuring water content of soil. This can help farmers identify whether they have drainage issues or irrigation problems. Drones can also be used to help farmers measure how fast their crops are growing in remote fields. Drones may be used to detect the presence of crop-wrecking bugs and then even deploy hyper accurate pesticide applications instead of spraying an entire field. With GPS technology, drones can be used take livestock out to pasture and keep the herd together.
5. Military. To the military, they are UAVs (Unmanned Aerial Vehicles) or RPAS (Remotely Piloted Aerial Systems). However, they are more commonly known as drones. Drones are used in situations where manned flight is considered too risky or difficult.
6. Security. Drone surveillance has already been in the news quite a bit as it has been used to protect the American border with Mexico. Drones have been used to track and apprehend criminals. Drones are also being used in warzones to track fugitives and terrorists.
Drones can help educational institutions monitor campuses, detect abnormal activity and potential threats, and send help signals immediately to school administrators and law enforcement agencies.
Using drones to provide employee escorts to their vehicles at night, or even providing full-time drone surveillance of parking lots and structures, can help reduce incidents.
7. Search and rescue. In 2014, drones were introduced as a critical tool for locating people in areas ravaged by fire, flood, or other natural disaster. Drones can be equipped with sensors like infrared that can be used to locate humans in remote areas by their heat signatures. Streaming video can be used for visual identification of people in distress and GPS information gives rescue personnel the ability to precisely locate the distressed and send in aerial support to rescue people.
8. Special delivery. Technology giant Google recently gave the world a sneak peek into their drone project. Their custom- built drones take off and land vertically, but then switch orientation to fly more like a glider or plane, which gives them a greater flight distance. Google envisions their Project Wing initiative will help deliver supplies to humans in remote areas of the world. E-commerce giant A mazon has also announced that they plan to use drones for same-day service of packages under a certain weight. Amazon's aerial package delivery system will be loaded with a delivery and programmed with GPS coordinates and then using advanced imaging technology, the drone would lower the package to a safe location like a front porch or driveway.
9. Hurricane Hunting. Drones can charge into the heart of a storm without risking human life and limb. That's one reason NASA, the National Oceanic and Atmospheric Administration (NOAA), and Northrop Grumman teamed up on a three-year, $30-million experiment to use long-range Unmanned Aerial Vehicles (UAV) to spy on storms as they evolve.
The program's Global Hawk drones can stay aloft for 30 hours and fly 11,000 miles (17,700 kilometers) with their 116-foot (35-meter) wingspans. That lets them reach and stay in stormy areas that manned planes can't, performing valuable surveillance.
Scott Braun, director of NASA's Global Hawk mission and his team have tapped unmanned air power to track tropical storm data through a storm's long evolution, in hopes of improving prediction powers. "If we can improve forecasts," Braun said, "we can save money and lives."
A team at the University of Florida, meanwhile, is tackling the same task with a different method, employing a swarm of six-inch-long drones that are launched with a laptop, use little power, and can be carried by wind water current—even underwater—to ride through a massive storm by the hundreds, collecting data.
Recreational usage for drones
The first retail multi-rotor drones were little more than flying toys with limited range and battery power. Their small motors were charged via battery pack, and a basic RF controller moved their rotors to achieve loops, dives, and hovers. But technology has grown in recent years, and today, many people use these types of drones to perform aerobatic stunts and aerial races. 
An important factor to consider before purchase is a drone's indoor/outdoor rating. Some smaller models are not designed to fly in outdoor conditions, while others could be too large to fly safely indoors.
First-time drone owners often start out with a basic model that suits their budget and recreational needs. However, many get the hankering to upgrade their drone with advanced features and accessories. Here are some additions you may wish to consider if it's time to upgrade.
While many mid-range and high-end drones include HD cameras in their housing, the images aren't always clear or stable. You may want to consider upgrading to an action camera like a GoPro. These cameras are designed to counteract the effects of wind and vibration, providing a much more stable video image.
Many manufacturers mount cameras inside the body of the drone. This is acceptable for casual photography, but if you want more professional results, consider adding an external camera mount, or gimbal. Gimbals allow you to place your video or still camera in front of the drone body, away from the vibrating motor and rotors. Gimbals can swivel and pivot, providing you with additional control over your imagery.
The best drones for any purpose have a decent range, intuitive controls that make them simple to pilot, and additional blades that are easy to replace because, at some point in the early stages of learning to fly, you will likely crash. A gimbal is essential for photos and footage while a protective travel case is highly desirable.
We are listing some good products with a short description. If you are ready to purchase, find the one that best fits your needs.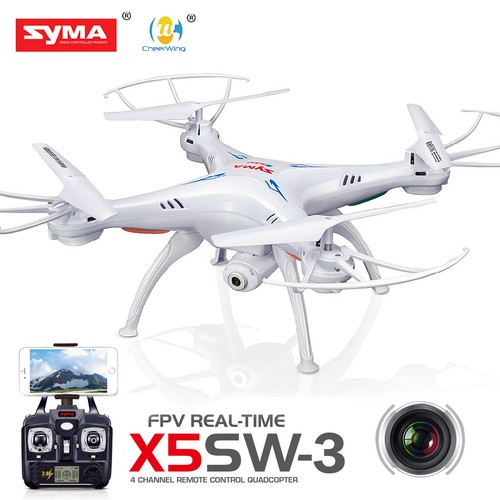 Price:$36.98
Buy Syma X5SW-V3 Quadcopter Drones With HD Camera Now
Condition: Used
Price:$29.98
Buy Syma X5SW-V3 Quadcopter Drone+HD Camera Now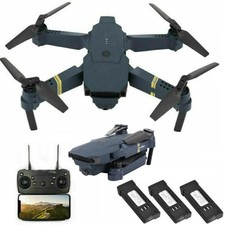 Drone X Pro is a foldable, lightweight and unique drone. It's a great beginners drone and makes a perfect gifts for those who likes outdoor adventure.
The Drone X Pro is very user friendly. Is independent and can fly by themselves in several predetermined ways.
You can also command the drone to FOLLOW YOU or to FOCUS ON YOU, even if you're on the move. The idea is simply telling the drone to follow you and capture your adventures.
Price: US $69.34

Price:$829.00
Buy DJI Phantom 3 Standard Quadcopter Now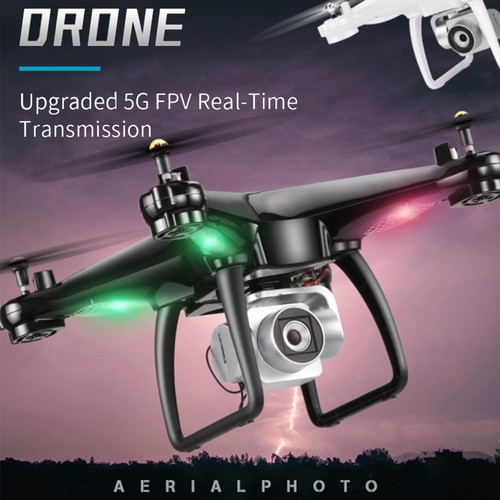 Price: US $53.29
Free Shipping
SPONSORED
Holy Stone HS700 GPS FPV Drone With 1080P HD Camera WIFI Brushless RC Quadcopter
1080P HD Camera   Free Shipping in 24H  20Min Flying Time
Brand New
4.5 out of 5 stars.
13 product ratings
– Holy Stone HS700 GPS FPV Drone With 1080P HD Camera WIFI Brushless RC Quadcopter


$229
Free Shipping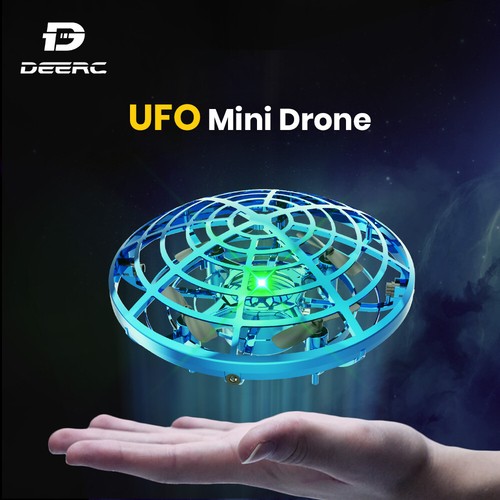 Price:$15.95
Future Drone Technology
Drone technology is constantly evolving, so future drone tech is currently undergoing groundbreaking progressive improvement. According to airdronecraze, an Amazon Services LLC affiliate advertising program website, drone technology has seven potential generations, and the majority of current technology sits in the fifth and sixth generations.
Here is the breakdown of the technology generations:
Generation 1: Basic remote control aircraft of all forms
Generation 2: Static design, fixed camera mount, video recording and still photos, manual piloting control
Generation 3: Static design, two-axis gimbals, HD video, basic safety models, assisted piloting
Generation 4: Transformative designs, Three-axis gimbals, 1080P HD video or higher-value instrumentation, improved safety modes, autopilot modes.
Generation 5: Transformative designs, 360° gimbals, 4K video or higher-value instrumentation, intelligent piloting modes.
Generation 6: Commercial suitability, safety and regulatory standards based design, platform and payload adaptability, automated safety modes, intelligent piloting models and full autonomy, airspace awareness
Generation 7: Complete commercial suitability, fully compliant safety and regulatory standards-based design, platform and payload interchangeability, automated safety modes, enhanced intelligent piloting models and full autonomy, full airspace awareness, auto action (takeoff, land, and mission execution).
The next generation of drones, Generation 7, is already underway, as 3DRobotics announced the world's first all-in-one Smart Drone called Solo. Smart drones with built-in safeguards and compliance tech, smart accurate sensors, and self-monitoring are the next big revolution in drone technology that would provide new opportunities in transport, military, logistics, and commercial sectors.